SS5 CrossLink 3-Pod LED Light Bar
Features
Three-pod 25-inch 

linked lightbar

Engineered TIR (total internal reflection) optics

Selectable backlight color, with eight color options

Torture-tested, heavy-duty construction

Ultra-high intensity: shines almost mile away

Assembled in USA
Overview
Introducing the SS5 CrossLink Lightbar! Using our patent-pending CrossLink technology, this kit links four SS5 LED pods together into a single lightbar. Featuring the highest output intensity of any 5-inch LED pod on the market, the LED pods included in this kit have been designed for maximum functionality, with patented technology and custom-engineered TIR optics, all in a durable package.
Focused. Traditional optics like reflectors or simple lenses lose light internally and to glare, so not all of the light shines on target. Instead, the custom-engineered TIR optic in the SS5 collects all of the light from the LED, and directs it only where you need it, drastically reducing glare and improving total efficiency. 
From there, while other options on the market lose as much as 10% of the light output shining through an outer lens, the custom-molded TIR optic in the SS5 serves as both the optic and main lens for greater efficiency and light output. Thanks to this patented and innovative technology, when coupled with high-intensity LED chips, the total intensity of the SS5 is much greater than other LED pods using basic optics or reflectors with a standard outer lens.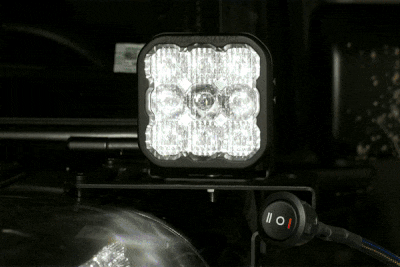 Selectable Backlight. The Stage Series 5" LED Pods included in this kit feature a selectable backlight with eight different color options, perfect for an extra styling accent, or for more visibility when you're not using the main beam. Selecting your backlight color is easy - simply alternate the power on and off. There's no complicated programming with a controller! The SS5's backlight fully illuminates the TIR optic, providing unique accent lighting that you won't find on other LED pods. NOTE: Due to the yellow lens, the Yellow kit is only available with an Amber backlight color.
CrossLink. Our patent-pending CrossLink technology allows you to link up to eight SS5 pods together to create your own lightbar. Unlike other options on the market that use multiple pieces to link pods together, we have designed a single-piece CNC aluminum link. This provides extreme rigidity, but is fully adjustable, for both straight and curved configurations. And thanks to inset threaded mounts built-in to every SS5, there is no need to buy a special linking version of the SS5 for your setup.

Functional Patterns. Stage Series beam pattern options were designed with advanced optical simulation modeling, to shape the output in highly-functional beam patterns with high efficiency. No matter what your auxiliary lighting needs are, there is a Stage Series optic for you!
Combo pattern combines both the Driving and Flood optics, perfect for all-around use. It shines light downrange in a focused 30x20 Driving beam to punch with distance, and fills in the surrounding area to create a full 70x30 degree pattern. With a row of driving optics in the middle, and a flood optic on the top and bottom, this has been designed to provide extra light for every situation.

White or Yellow. This kit is available in a cool white or selective yellow color. The white is a 6000K color temperature, which is a true cool white output, and matches most factory LED lighting. The selective yellow is a 3000K color temperature, great for high contrast in poor weather or a distinctive look on the road. 
Interchangeable Lens. Need a different beam pattern or color? You can swap it yourself! We offer replacement lenses that allow you to change the color or optic of your Stage Series SS5 Pods.
Sport or Pro. This kit is available at two different power levels. All options use high-intensity LED emitters, and TIR optics for unmatched focus and overall output. The Sport model uses nine high-intensity LEDs for 40W of total power. The Pro model steps things up in a big way, with double the total power at 90W. Click the Specifications tab to see more information.
Simple connections. All SS5 LED pods feature a custom-molded DT type Deutsch-style connector on the back. DT splitters are included in the kit to connect the pods together, along with a 6-inch pigtail with bare leads. For installation, you can wire yourself, use an off-the-shelf Deutsch DT sized wire harness, or select the optional Diode Dynamics wire harness.
Snap-on covers. For states that require them, we also offer snap-on covers for your SS5 Pod. These covers are available in a variety of colors and keep your SS5 Pod clean and protected from dirt, dust, or whatever else the road throws your way!